top 31 Awesome Estes Park Lodging Picks (Our Favorites)
Looking for The Definitive List of Estes Park Lodging Choices?
Cozy mountain cabins surrounded by trees? How about a private balcony where you can soak in a hot tub and listen to the creek? And don't worry, there's plenty of room for your furry companion too! If you're searching for the perfect place to Estes Park lodging options, you've come to the right spot. We've got over 150 awesome options for lodging, ranging from small and charming to luxurious and fancy. No matter your budget or preference, the Estes Valley has got you covered with a wide variety of accommodations.
You can easily narrow down your search by using keywords, amenities, location, or even the type of lodging you're after. Just a friendly tip, though: these places fill up quickly, so it's best to book in advance to secure your dream vacation spot.
If you book a stay through one of our links, we get a small commission.
Happy hunting!
Our Staff Picks
Top for last-minute stays: Saddle & Surrey Motel
Top for couples: The Stanley Hotel
Top pick for families: The Estes Park Resort
Top pick for IG & Influencers: Stonebrook Resort
—
Closets to the National Park: Alpine Trial Ridge Inn
Top Airbnb: Mountain Shadows Resort
Top VRBO: Downtown Condo
Top choice for groups: YMCA of the Rockies
Estes Park Hotels
See the comprehensive list of Estes Park Hotels >>
Estes Park Cabins
25. Bear Paw Suites
2120 Fall River Road
Unwind in the serene beauty of the Rocky Mountains at Bear Paw Suites, renowned as one of the finest hotels in Estes Park. Embrace a comfortable and rejuvenating stay in our well-appointed suites, complete with essential amenities like fully equipped kitchens, cozy beds, and Wi-Fi access.
Indulge in relaxation as you bask in the tranquility of our outdoor patio or venture into the surrounding nature, where scenic trails await, offering glimpses of captivating wildlife.
With its close proximity to downtown Estes Park, our hotel grants convenient access to a myriad of shopping, dining, and entertainment options, adding to the allure of your stay. At Bear Paw Suites, we strive to provide a welcoming and comfortable haven, serving as the perfect base for visitors seeking to immerse themselves in the natural wonders of the Rockies.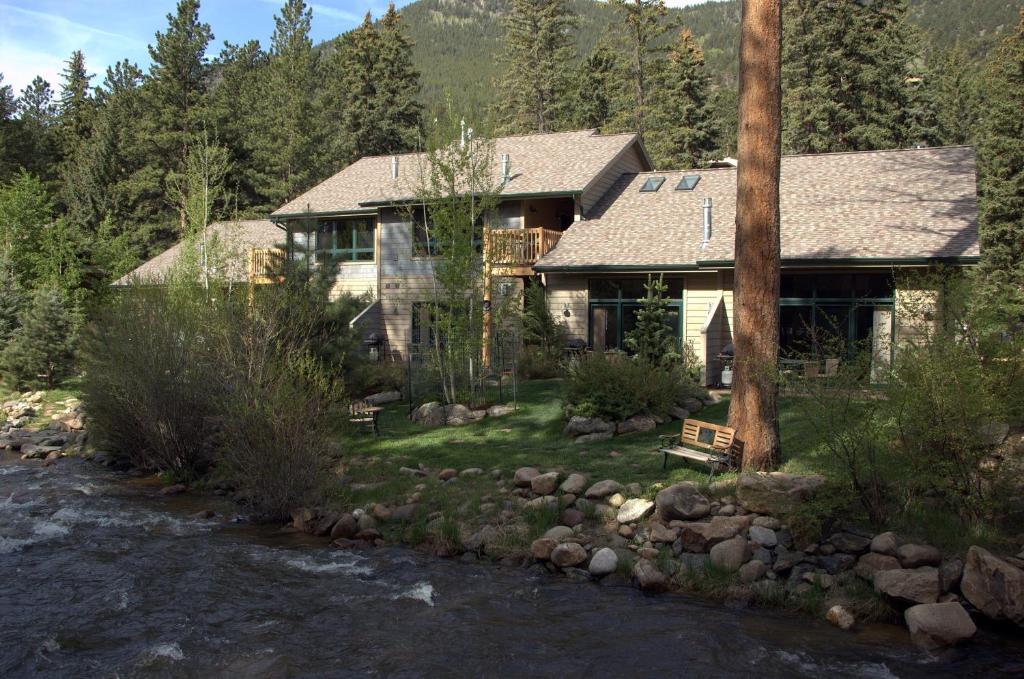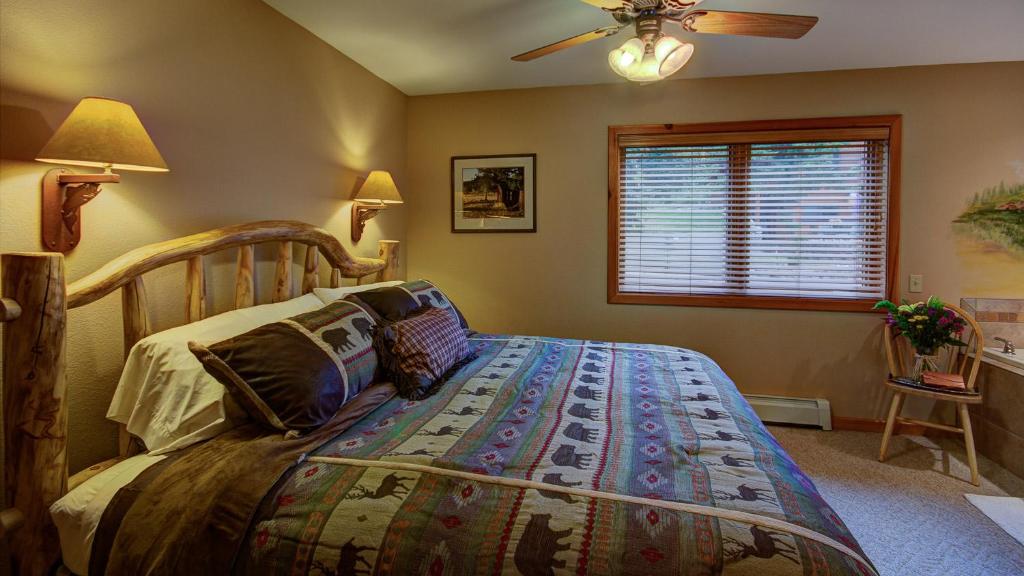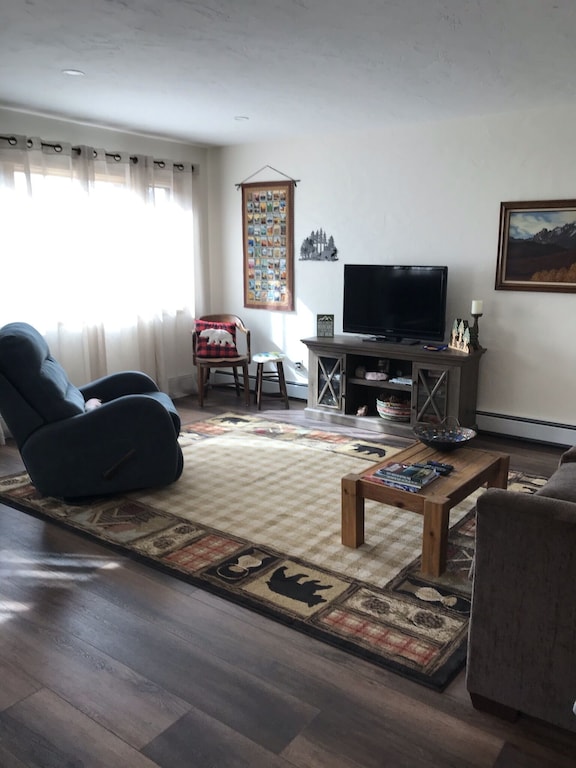 26. Cozy Cabin close to Town and Lake Estes Trail
Near Lake Estes, a 9-hole golf course, and downtown Estes Park
Immerse yourself in the enchantment of a private and cozy cabin nestled near Lake Estes, a scenic 9-hole golf course, and downtown Estes Park. Indulge in breathtaking mountain views from the front patio or embark on a short drive to Rocky Mountain National Park, where a plethora of hiking trails awaits your exploration. If you seek adventure, try your hand at fly fishing on the nearby river.
This inviting one-bedroom cabin offers a delightful retreat, complete with a fully equipped kitchen, dining area, and a comfortable living room featuring a sleeper sofa. A convenient 3/4 bathroom and in-unit washer/dryer add to the ease of your stay, while Wi-Fi and a television cater to those seeking indoor relaxation. Prepare to experience the very best of this charming and delightful cabin, where comfort and natural beauty combine to create a memorable getaway.
27. Remodeled Detached Cabin
Indulge in a tranquil getaway at this charming standalone cabin, where peace and relaxation await. Step onto the spacious deck and take in the breathtaking views while soaking in the rejuvenating hot tub. For aspiring grill masters, a gas BBQ grill is at your disposal, perfect for al fresco dining. Inside, a fully-equipped kitchen awaits, allowing you to prepare delicious meals at your leisure.
Stay connected with Wi-Fi access and enjoy entertainment on smart TVs in both the living room and two bedrooms, each adorned with comfortable new queen beds. Accommodating up to four guests, this cabin is a serene retreat for small groups or families. For those traveling with infants, a pack-and-play is available upon request.
Convenience is key, as a combination washer/dryer is provided, making laundry a breeze. With its prime location, this cabin offers easy access to the charms of the town and its many attractions, all while boasting a fresh and modern interior.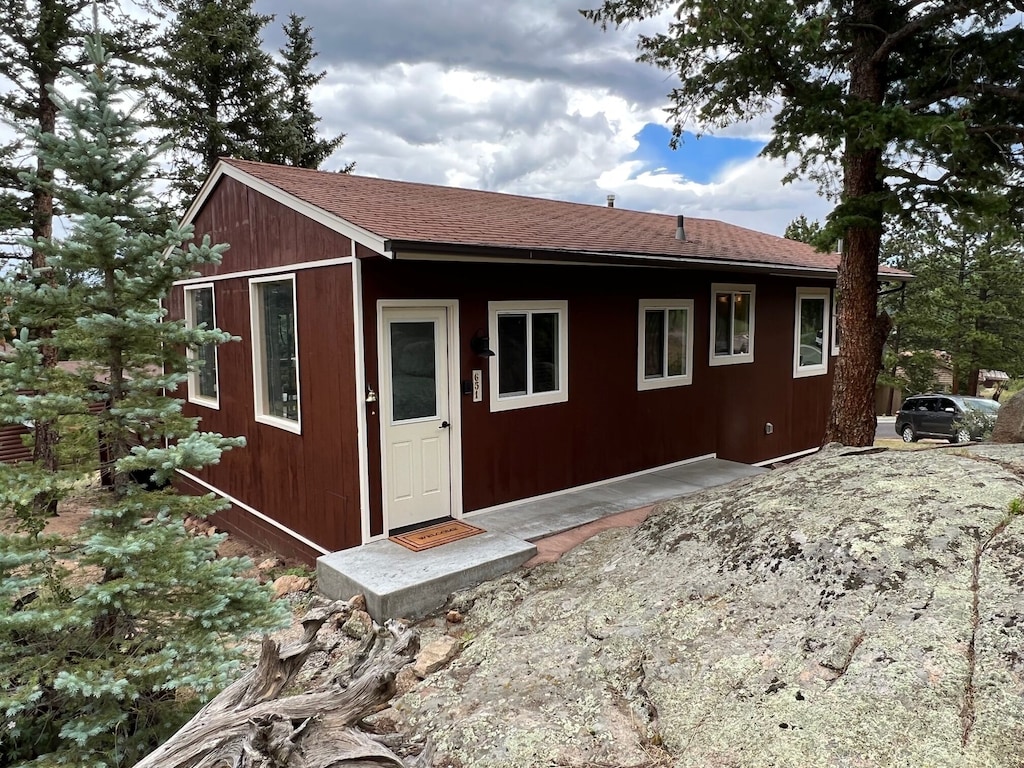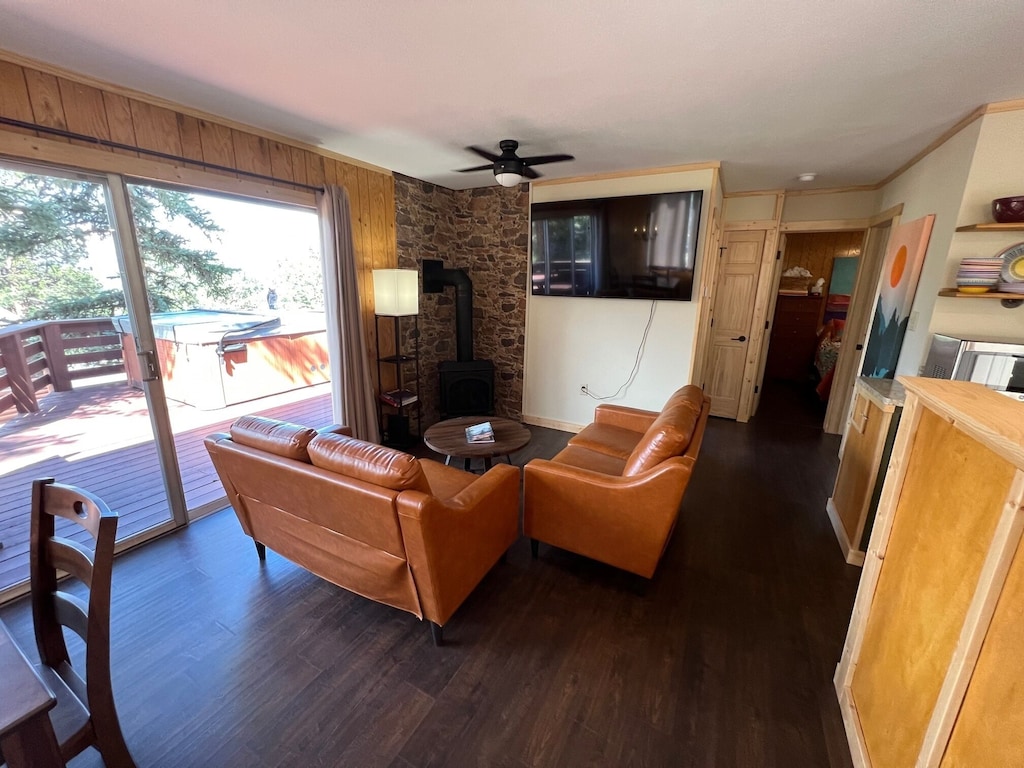 Estes Park Airbnbs
28. Elks Cozy Cabin
Escape to a cozy cabin retreat, designed to provide a memorable getaway throughout the seasons. Whether you're seeking a short weekend escape or an extended vacation, this haven is the perfect choice. Rest assured, the cabin has been fully remodeled and remains unaffected by the floods and wildfires that have occurred in Colorado.
Immerse yourself in the wonders of nature as you relax on your porch, where an array of wildlife, from birds to elk and deer, can be observed. For a serene experience, venture just 150 feet down the hill to the river, where you can unwind and indulge in a delightful picnic.
Rocky Mountain National Park beckons with its endless possibilities for hiking, fishing, and capturing breathtaking landscapes. After an exhilarating day outdoors, retreat to the comfort of this charming cabin, where you'll instantly feel at home.
29. The Wolverine's Pride
Fall River Village Resort
Discover the inviting comfort of The Wolverine's Pride at Fall River Village, your ultimate home away from home. This delightful two-bedroom, two-bathroom condo effortlessly blends style and comfort, ensuring a memorable stay. Nestled on the western edge of Estes Park, it grants you convenient access to the town's amenities while providing a serene and secluded setting.
Adventure awaits just minutes from your doorstep, with world-class fly fishing, exhilarating hiking trails, and thrilling rock climbing opportunities. For a leisurely experience, take a leisurely stroll downtown and immerse yourself in the charm of local restaurants and boutique shops. Whether you seek adventure or relaxation, The Wolverine's Pride at Fall River Village is the perfect retreat.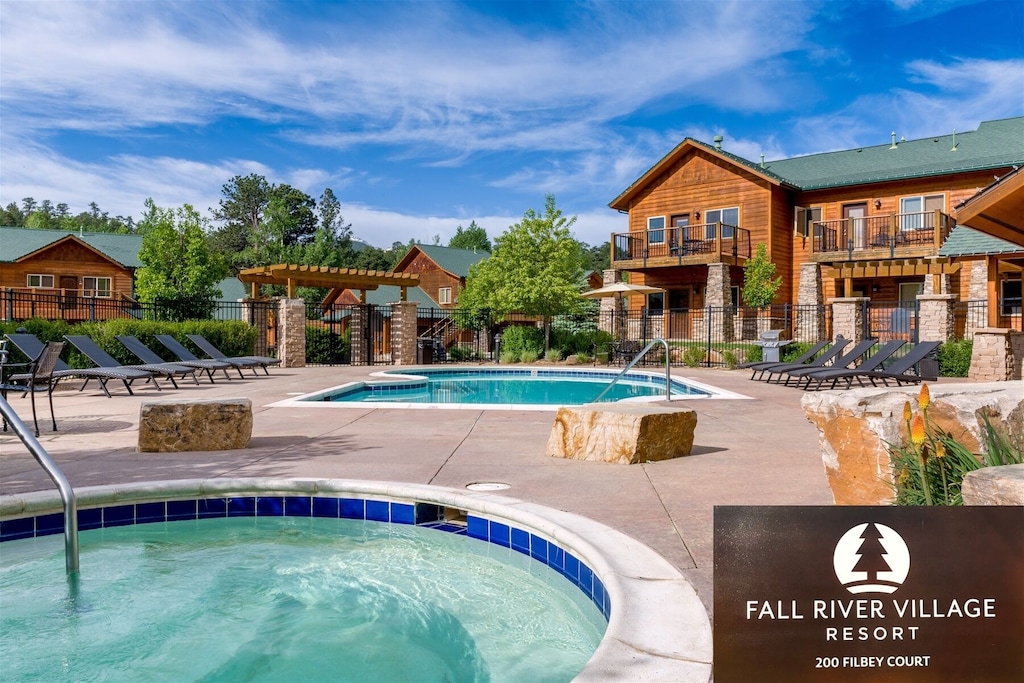 Do you have these items for your Trip?
Flights: We recommend CheapOAir ✈️
Car rental: We recommend Rentalcars.com 🚗
Travel insurance: We recommend SafetyWing 🤒
Activities: Things you have to do 🥾
Recommended RVs: We recommend Outdoorsy 🌲
Skip reservations and planning: Book a tour! 🏔
Estes Park VRBOs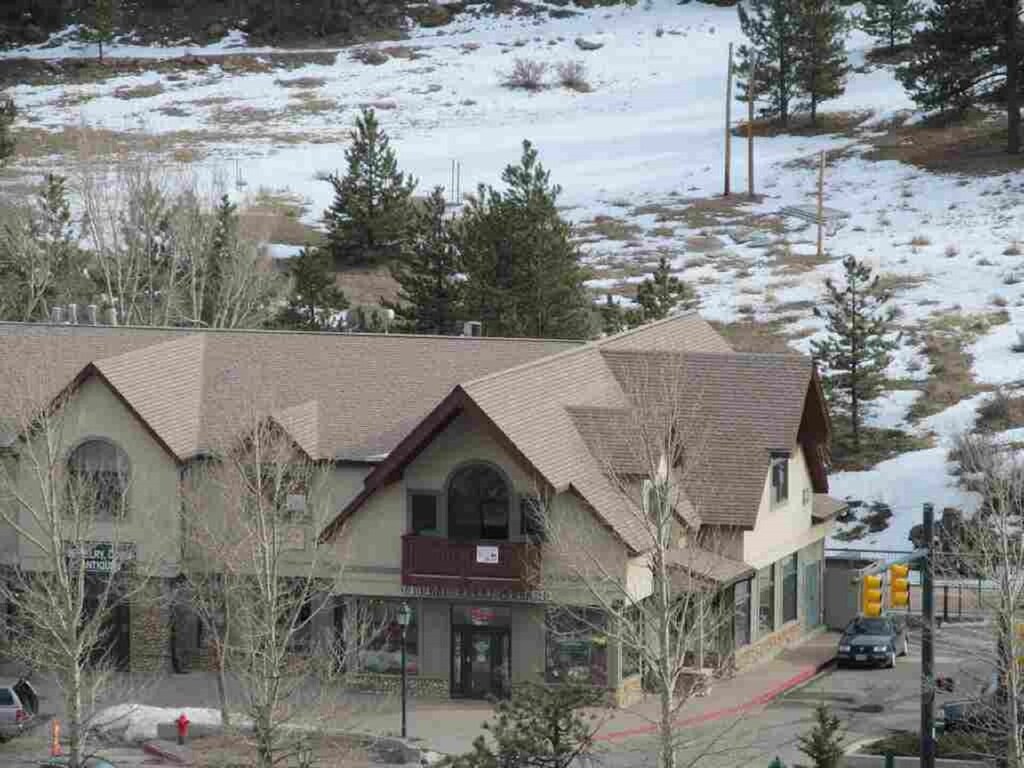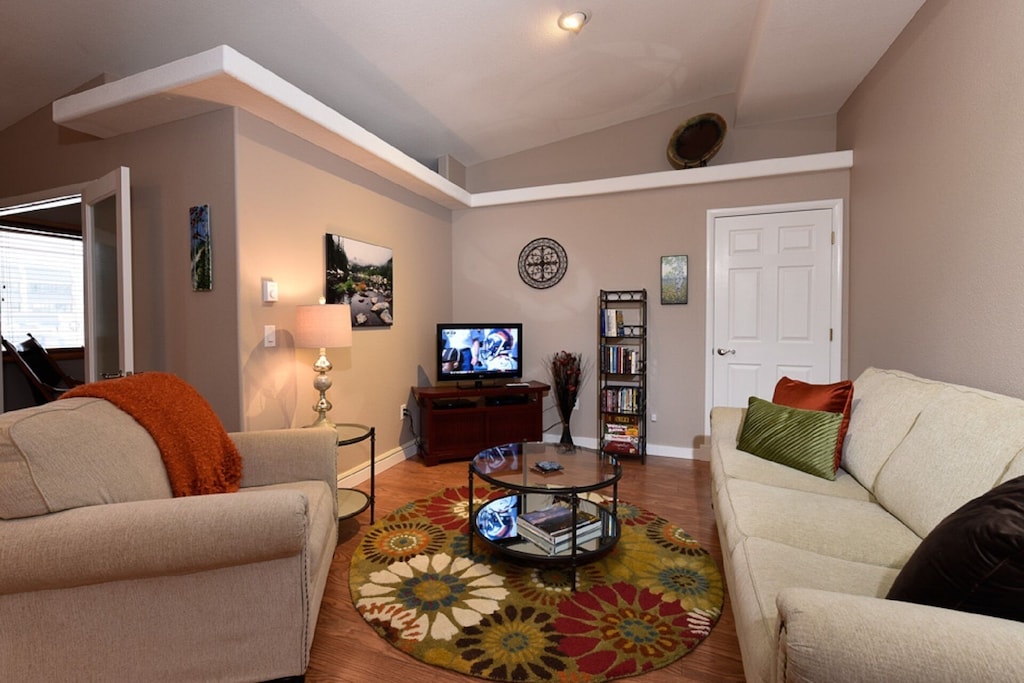 30. Downtown Condo
Downtown Estes Park on Parade Route
Indulge in spacious and contemporary living at this exceptional vacation rental, boasting over 925 sq. ft. Unlike smaller cabins or downtown units, this well-appointed space offers ample room for your comfort. Adorned with beautiful Colorado art, the unit is perfectly situated in the heart of downtown Estes Park, placing you in close proximity to all the attractions.
Inside, you'll find a fully-equipped kitchen, washer/dryer, Wi-Fi, and cable TV, ensuring all your needs are met. Stay cozy year-round with the state-of-the-art air conditioning and heating system. For your Rocky Mountain adventure, make use of the provided snowshoes, hiking sticks, and backpack, along with other essential items.
The rental's central downtown location allows for easy access to shopping, dining, golfing, Lake Estes, movie theaters, and the renowned Riverwalk, all within walking distance. Immerse yourself in the vibrant atmosphere of Estes Park while enjoying the comfort and convenience of this remarkable rental.
31. Spacious 2-Bedroom Loft
Downtown Estes Park on Parade Route
Immerse yourself in the comfort and beauty of this spacious condo, which underwent a remodel in February 2020 after its completion in June 2008. Located on the river in downtown Estes Park, it offers a generous amount of space for your enjoyment. With only a few residences in the building, you can expect a peaceful stay above the bustling businesses below.
Step inside to discover new hickory flooring, a stylish sectional couch, updated decor, and a fresh mattress in the master bedroom, ensuring a truly comfortable retreat. Downstairs, you'll find a coffeehouse, an art gallery, an antique store, and more, adding to the convenience and charm of the location. Plus, several restaurants and additional shopping options are within easy walking distance, allowing you to explore the vibrant offerings of downtown Estes Park.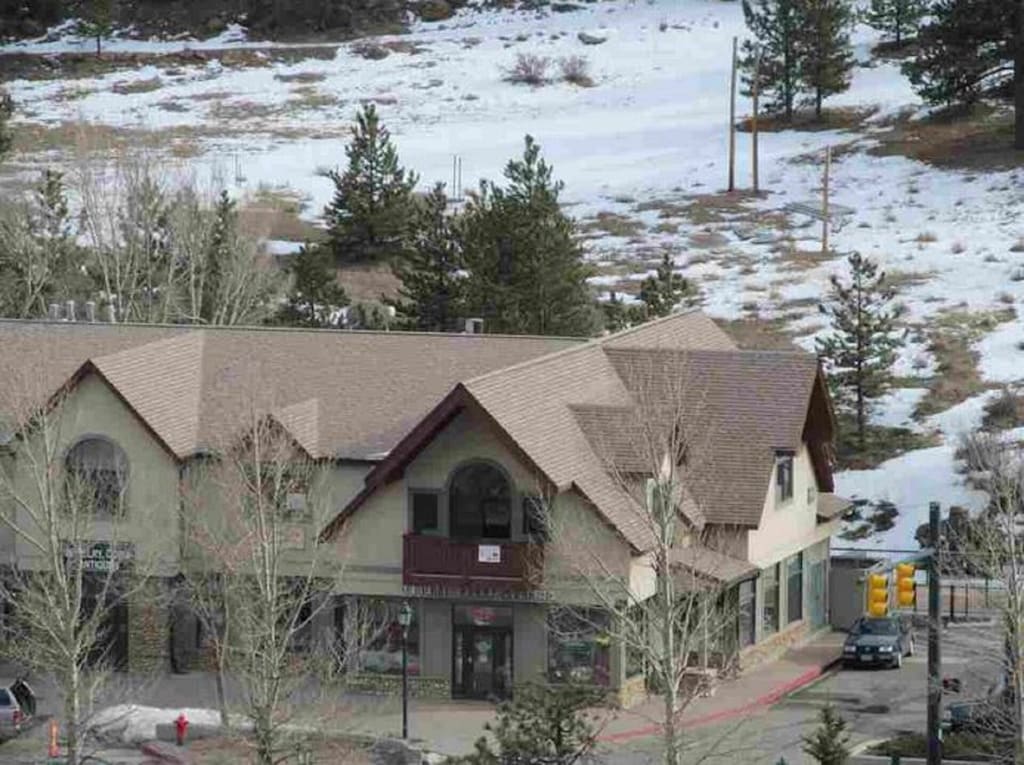 Rocky Mountain national park Essentials
It can get really windy here: Grab a base layer 🌲
TIPS FOR BOOKING ESTES PARK LODGING
To enhance your Estes Park adventure within your Rocky Mountain National Park itinerary, here are some helpful tips for booking.
Plan in advance: Estes Park attracts many tourists (6,500,000 per year), especially during peak season. To avoid disappointment and ensure availability, it's crucial to book your accommodations as early as possible.
Consider the location: Estes Park is a sizable town, and your experience will be influenced by where you choose to stay. Think about the proximity to your desired attractions and the best hiking trails in Rocky Mountain National Park, as well as the tranquility if you seek a relaxing getaway.
Explore various accommodation options: Estes Park provides a range of choices, from luxurious hotels to charming cabins. Determine the kind of experience you desire and conduct research to find accommodations that align with your preferences.
Look for promotions, deals(we got those), and discounts: Keep an eye out for special offers and deals provided by hotels and other lodging options. These may include discounts for early bookings or package deals that incorporate additional activities.
Read reviews: Prior to finalizing your booking, take the time to read reviews from previous guests. This will give you insights into the strengths and weaknesses of the property and ensure that it meets your expectations. Making an informed decision based on these reviews will contribute to a successful trip to Estes Park.
Frequently Asked Questions about Estes Park Lodging
What Are The Best Romantic Hotels In Estes Park?
We live here and we recommend these places to friends who visit. The Solitude Cabins, Colorado Cottages, and a private stay at any of the places in Windcliff are all highly advisable for a fairy-tale stay in Estes Park. See the full list: Romantic Hotels in Estes Park.
What Are The Best Hotels With A Pool In Estes Park?
Some of the most popular hotels with a pool in Estes Park include Murphy's Resort at Estes Park, Blue Door Inn, and Murphy's River Lodge. See the full list: Estes Park Hotels with a Pool. Some of the most popular hotels with a pool in Estes Park include Murphy's Resort at Estes Park, Blue Door Inn, and Murphy's River Lodge. See the full list: Estes Park Hotels with a Pool.
Which Hotels In Estes Park Are Good For Families?
Murphy's Resort at Estes Park, Murphy's River Lodge, and Silver Moon Inn all received great reviews from families traveling in Estes Park. See the full list: Family Hotels in Estes Park.
What Are The Cheapest Places To Stay In Estes Park?
A few of the cheaper motels nearby are Quality Inn Estes Park, Peak to Peak Inn, Bluebird, and Hotel Estes. See the full list: Cheap places to stay in Estes Park.
What's The Quickest Way from Denver to Estes Park?
The popular routes take you up the 25 to the 66 to the 36. Budget 90 minutes from downtown, or DIA. Can't miss it. However, a more scenic route with some fun curves; 36 up to Lyons, then the 7 up the canyon into Estes is dreamy. On the way back, take Highway 34 down the canyon. You'll thank us later. While the 36 is the most direct, the 7 and 34 are the memorable canyon roads you'll bookend your trip with.
What Are The Best Hotels Near The Lake In Estes Park?
Popular stays close to Lake Estes include Estes Park Resort, Murphy's Resort, The Ridgeline, and the Rodeway Inn. See the full map of results: Hotels near Lake Estes.
What Are The Best Last-Minute Places In Estes Park?
You have to check these places, they rarely fill up, and there are affordable cheap hotels in Estes Park including Murphy's Resort at Estes Park, Blue Door Inn, and Murphy's River Lodge. See the full list: Cheap Hotels in Estes Park.
What are the best pet-friendly hotels in Estes Park?
Some of the most popular pet-friendly hotels in Estes Park are Murphy's Resort at Estes Park, Murphy's River Lodge, and Silver Moon Inn. See the full list: Pet-Friendly Hotels in Estes Park.